Dog Days of Murder is LIVE! It's Halloween in Cider Cove!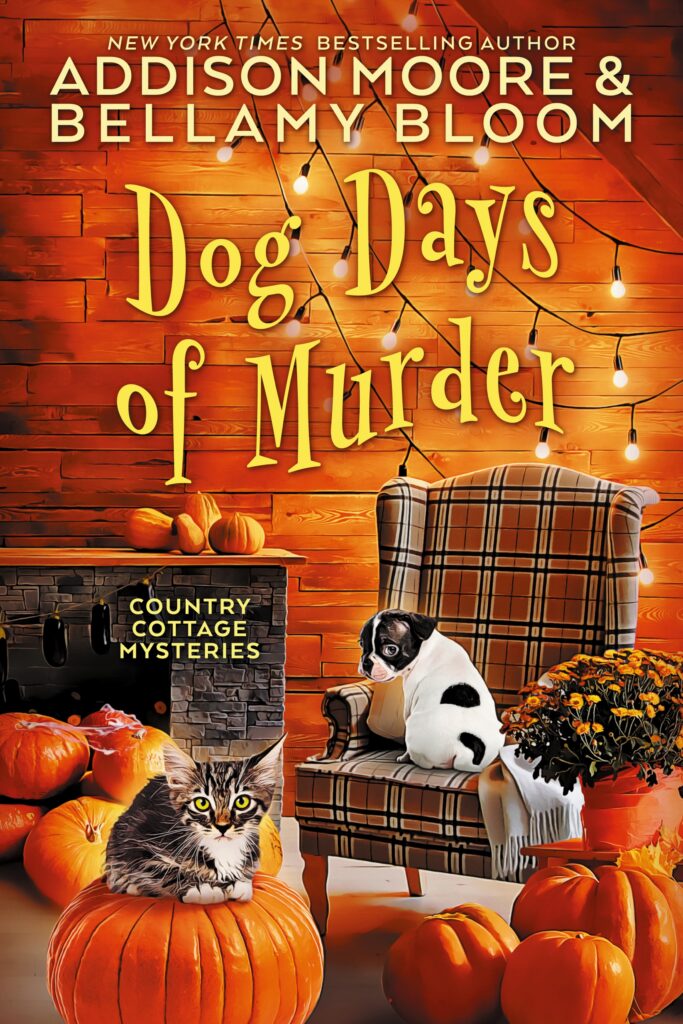 It's here! Book two, Dog Days of Murder (Country Cottage Mysteries 2) is live! It's Halloween in Cider Cove and things are about to get murderously spooky. Country Cottage Mysteries is a USA TODAY bestselling series! Enjoy!
Kittyzen's Arrest is now a USA TODAY bestseller!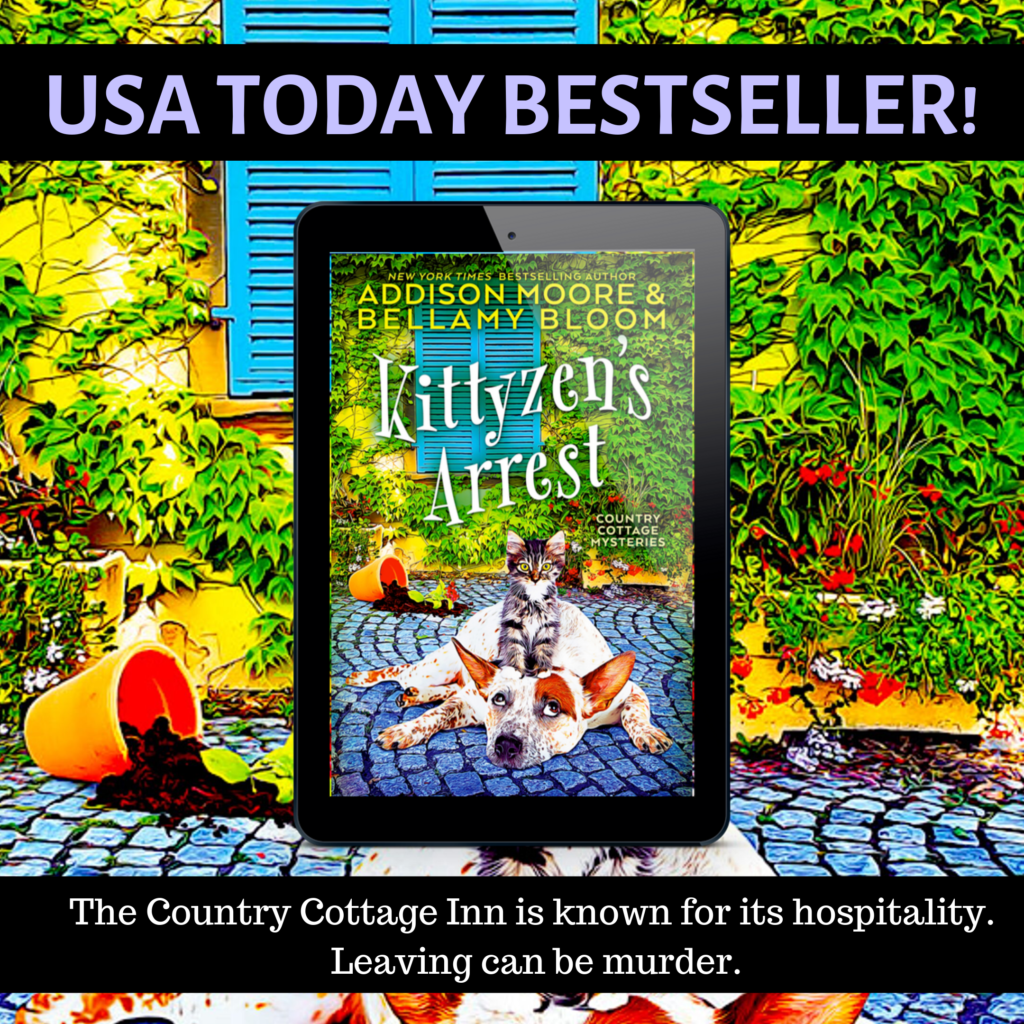 Kittyzen's Arrest (Country Cottage Mysteries 1) hit #43 on the USA TODAY bestseller list this week! Can you believe it? Addison and I are over the moon! We've been whooping it up ever since and there's no sign of the party slowing down. We can't thank you enough for grabbing a copy. We hope you loved it!

XOXO ~ Bellamy & Addison
Brand new cozy mystery series!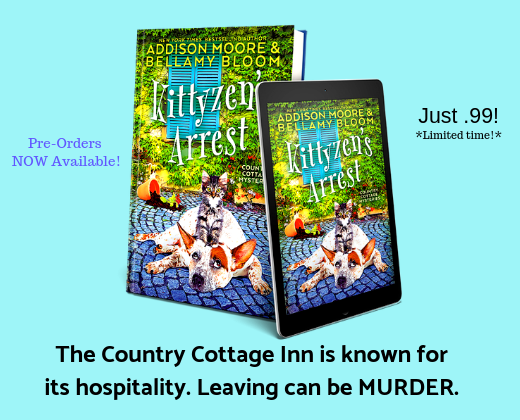 Kittyzen's Arrest releases September 24th!
Are you ready to laugh (I hope), cry (perhaps) and sit at the edge of your seat with book one of the Country Cottage Mysteries series? I sure hope so! Bizzy Baker's name might imply that she knows her way around the kitchen but that couldn't be further from the truth! Bizzy Baker is a walking disaster in any room that happens to house an oven, and she has perhaps one too many phobias to list.
I cannot wait for you to meet Bizzy, Fish, Jasper and Sherlock Bones! Here's a little about the book: An innkeeper who reads minds. An Ornery detective. And a trail of bodies. Cider Cove is the premiere destination for murder.
My name is Bizzy Baker, and I can read minds—not every mind, not every time but most of the time, and believe me when I say it's not all it's cracked up to be.
Bizzy Baker runs the Country Cottage Inn, has the ability to pry into the darkest recesses of both the human and animal mind, and has just stumbled upon a body. With the help of her kitten, Fish, a mutt named Sherlock Bones and an ornery yet dangerously good looking homicide detective, Bizzy is determined to find the killer.
*Cider Cove, Maine is the premiere destination for fun and relaxation. But when a body turns up, it's the premiere destination for murder.

The Country Cottage Inn is known for its hospitality. Leaving can be murder.

I cannot wait to share this with you!
XO Bellamy
Just .99 for a LIMITED TIME. GRAB THIS ONE TODAY!
Amazon / NOOK / Apple / KOBO / GOODREADS / BOOKBUB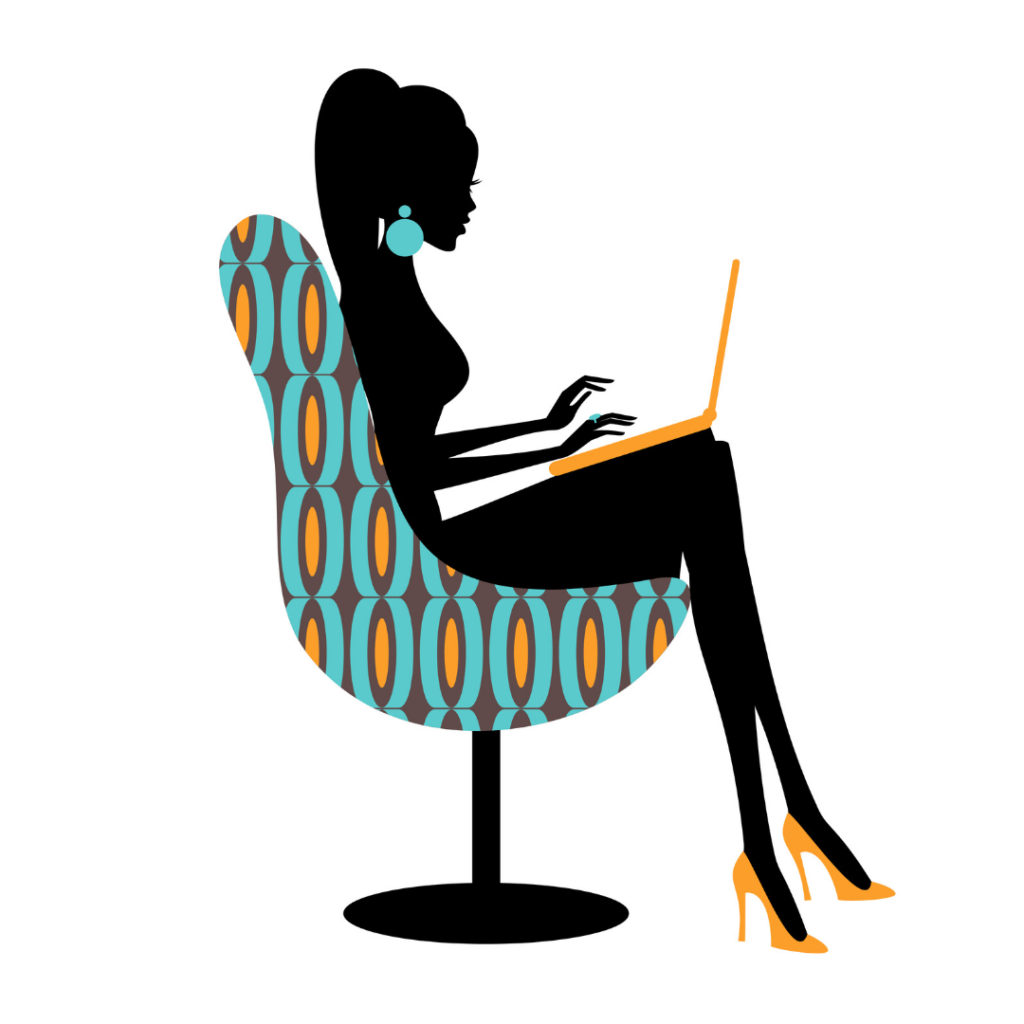 Bellamy Bloom writes cozy mysteries filled with humor, intrigue and a touch of the supernatural. When she's not writing up a murderous storm she's snuggled by the fire with her two precious pooches, chewing down her to-be-read pile and drinking copious amounts of coffee.